Making of ICONS - Grey London & Us
___________________________________________________________
Interested in the creative process and production of the ICONS spot for the Sunday Times by Grey London and Us?

Check out this incredible video and this link to find out more about the process taken to bring these icons together and to life: http://makingoficons.com/
Sunday Times Culture - Grey London
___________________________________________________________
An incredible and seamless depiction of some of the world's most infamous icons and their impact on culture, all to advertise the revamped Culture section in the Sunday Times.
Kanye vs. Creative - Concept Farm
___________________________________________________________________
If you work in the creative industry chances are you've heard a thing or two from a Creative Director that make to second guess both his/her and your own sanity…did they really just say that?
Well, the folks at Concept Farm believe they have found the sole egotistical equivalent to every Creative Director you've ever encountered - good old Kanye West.
Check out the site for yourself to see if you measure up in indicating who said what. While your there submit  your own quotes!
Typo Keyboard - Ryan Seacrest
___________________________________________________________________
With the death of the Blackberry physical keyboard impending Ryan Seacrest has invest $1M into this new cellphone case which transforms any iPhone into a wannabe Blackberry with a physical keyboard built right in for your convenience.
Looks like a nifty and hefty investment for a phone case - it will retail for $99 when it is launched in January. Pricing seems a little steep when you take into account that iPad keyboard cases cost around $99. The product is marketed as a keyboard and security case for the phone
Feel free to check out the video above for a detailed 'how to' on the Typo Keyboard Case. The only thing I am curious about is what happens to the home button once it is covered up? interested to see how one would navigate.
International Day of Persons With Disabilities - Pro Infirmis & Alain Gsponer (Director)
_________________________________________________________________
What an incredible display of true beauty. Pro Infirmis an organization that encourages the independence of people with disabilities and their latest campaign was seen loud and clear.
This moving piece directed by Alain Gsponer follows five 'imperfect' individuals in the process and surprise creation of their own true to size mannequins. The mannequins are later put on display in shop windows along one of Zurich's most popular shopping streets - Bahnhofstrasse.
"Who is perfect? Unite." - Pro Infirmis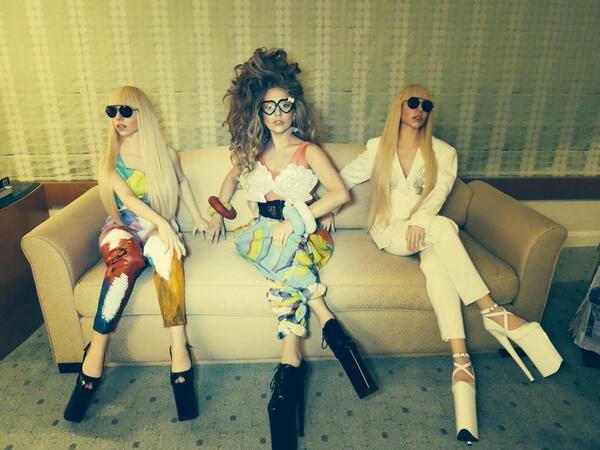 Can you spot the real Gaga?!
Leave it to Lady Gaga to create a 'doll' version of herself to promote her new ARTPOP album - the doll is part stereo by playing some of her hit tracks from a speaker in its chest.
Get Skittles Rich (Skittles) - BBDO Toronto
_________________________________________________________
Skittles gives away 1 MILLION pieces of rainbow goodness!!! I can't even begin to imagine what one would do with that many Skittles or how much space that would take up in your home.
Skittles recently launched a pyramid-marketing campaign which required contenders to collect virtual Skittles via shares of the 'Get Skittles Rich' video available on the campaign micro site (http://www.getskittlesrich.com/)
The winner (who has to be of Canadian citizenship) will have the 
The participant who generates the most virtual Skittles will have 94 bulk cases (5,550 bags) of Skittles delivered to their home.
An inventive and interactive pyramid-marketing campaign that not only generates views but also multiple impressions with the video and micro site. Stay tuned for the winner to be announced on December 10th!
Leave it to Fox to be able to sell :30 TV spots for the game on February 2nd for $4-4.5M a pop!
AF351 Instant Takeoff Contest (Air France) - Air France & Bleublancrouge
_________________________________________________________
Air France KLM Canada is the latest brand - in a long line - to engage their consumers with a social media driven travel contest. To promote their daily flight service from Toronto to Paris the in-house marketing team at Air France, along with  Bleublancrouge gave individuals the opportunity to be whisked away on a 4-night getaway to Paris, France for FREE!
Via social media communication Air France communicated that one needed to register online to obtain a 'boarding pass'. With their boarding pass in hand participants were asked to arrive at David Pecaut Square in Toronto on October 24, 2013 with their bag and travel partner to 'check-in' and see if their boarding pass was one of the lucky winners!
Those selected were taken to Pearson International Airport via the Air France Car where they would depart for a 4-night stay in Paris at the Best Western Folkestone Opéra (a partner with Air France for this campaign).